GL823U
The GL823U is a USB 2.0 SD/MMC Flash Card Reader single chip. It supports USB 2.0 high-speed transmission to Secure DigitalTM (SD), SDHC, SDXC, miniSD, microSD (T-Flash), MultiMediaCardTM (MMC), RS-MMC, MMCmicro, MMCmobile on one chip. As a single chip solution for USB 2.0 flash card reader, the GL823U complies with Universal Serial Bus specification rev. 2.0, USB Storage Class specification ver.1.0, and SD/MMC card interface specification.


The GL823U integrates a high speed 8051 microprocessor and a high efficiency hardware engine for the best data transfer performance between USB and flash card interfaces. Its' pin assignment design fits to card sockets to provide easier PCB layout. Inside the chip, it integrates 5V to 3.3V and 3.3V to 1.8V regulators and power MOSFETs and it enables the function of on-chip clock source (OCCS) which means no external 12MHz XTAL is needed and that effectively reduces the total BOM cost.
● USB specification compliance
- Comply with 480Mbps Universal Serial Bus specification rev. 2.0
- Comply with USB Storage Class specification rev. 1.0
- Support one device address and up to four endpoints: Control (0)/ Bulk Read (1)/ Bulk Write (2)/Interrupt (3)
● Integrated USB building blocks
- USB2.0 transceiver macro (UTM), Serial Interface Engine (SIE), Build-in power-on reset (POR) and low-voltage detector (LVD)
● Embedded 8051 micro-controller
- Operate @ 60 MHz clock, 12 clocks per instruction cycle
- Embedded mask ROM and internal SRAM
● Secure DigitalTM (SD) and MultiMediaCardTM (MMC)
- Support SD specification v1.0 / v1.1 / v2.0/ SDHC (Up to 32GB)
- Compatible with SDXC (Up to 2TB)
- Support MMC specification v3.x / v4.0 / v4.1 / v4.2.
- x1 / x4 bit data bus
● Support customized vendor information when using with SD card embedded as USB Flash Drive.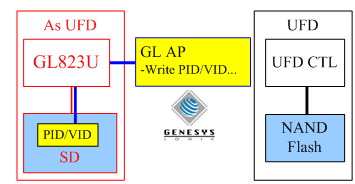 ● On chip clock source and no need of 12MHz Crystal Clock input.
● On-Chip 5V to 3.3V and 3.3V to 1.8V regulators
● Support 5V to 3.3V Band Gap Regulator for stable voltage supply
● Provide Over-Current protection mechanism for safety power supply
● On-Chip power MOSFETs for supplying flash media card power
● Operating system supported: Windows 7/Vista32&64/XP/2000/Me/98/98SE, Mac OS 9.X/10.X, Linux Kernel 2.4.X/2.6.X
● Package available in 24 pin QFN (4x4 mm)